The Goods
Zesty Citrus Diesel Live Resin 510 Cartridge 60% CBD 1.0ml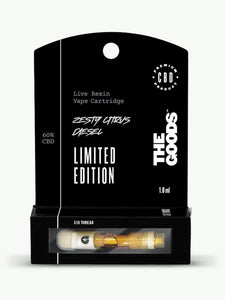 Zesty Citrus Diesel
Flavour: Citrus, Pineapple, Diesel, Sweet
Effect: Energizing, Focused, Happy
Introducing The Goods' exquisite Zesty Citrus Diesel Delight CBD live resin cartridge – a vibrant, tropical indulgence that artfully marries the bold, refreshing flavours of pineapple and diesel. This enchanting blend is carefully crafted to immerse your senses with each draw, delivering an unparalleled vaping experience brimming with sweet, zesty undertones. 
—
Introducing The Goods CBD Live Resin 510 Cartridge – the ultimate CBD vaping experience for those who appreciate unmatched quality and purity. Our award-winning CBD cartridges are carefully handcrafted using only the finest CBD-rich cannabis extracts and top-shelf terpenes. With full traceability at scale, you'll enjoy a genuine, clean, and flavorful experience with every exhale.
Our CBD 510 Cartridges boast pure, uncut oil produced through the most sophisticated extraction and distillation methods. The result is the cleanest broad-spectrum CBD vape oil in the UK, brimming with cannabinoids and terpenes that provide a smooth and satisfying vaping experience. Each cartridge is packed with distilled cannabis oil from 20 grams of CBD/Hemp flower and vapour-distilled terpene essential oil from 10 grams of premium, Grade A Cannabis flowers.
Partnering with vape pioneers AVD, our cutting-edge cartridges are made with proprietary dentistry-grade ceramic to ensure durability and a chemically inert hit. The All-Ceramic AVD Eazy-Press mouthpiece locking system delivers award-winning flavours and a stunning visual experience, featuring a premium glass body, white ceramic centre post, and gold trim finish.
The Goods CBD Live Resin 510 Cartridges are available in various enticing profiles, including:
Ingredients list
Our carefully curated ingredients include:
1g of Uncut, Broad-Spectrum CBD Live resin: Artfully extracted from 20 grams of the finest CBD/Hemp flowers, our uncut oil is rich in cannabinoids and terpenes, capturing the essence of the plant's natural brilliance.
100% Cannabis-Derived Terpenes: Sourced from 10 grams of premium Grade A Cannabis flowers, our vapour-distilled terpene essential oil enhances the sensory experience with each delicate puff.
How to Use Our 510 Cartridge
Indulge in the lavish experience of The Goods CBD vape cartridge by following these simple steps:
1. Elegantly attach your cartridge to your
510 battery
by gently screwing it in place, ensuring a secure connection.
2. Gracefully inhale the sumptuous vapour, allowing the luxurious blend of cannabinoids and terpenes to envelop your senses. Hold the vapour in your lungs for approximately four seconds.
3. Slowly exhale, releasing the vapour and savouring the rich flavours and aromas that The Goods has to offer.
4. Repeat this delicate ritual for about fifteen minutes, or until you achieve the desired level of satisfaction.
5. To maintain the opulence of your vaping experience, always keep your cartridge replenished and have replacement cartridges at hand.
Treat yourself to the extraordinary with The Goods CBD Live Resin 510 Cartridge, where every puff is a journey through unparalleled quality, refinement, and indulgence.