The Goods
The Goods VIP CBD Flower & Hash Bundle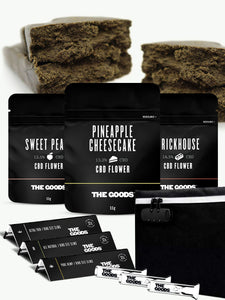 This bundle is an assortment of our favourite products by The Goods, hand-picked by us. Become the VIP at any sesh with a stash bag filled with all these goodies, from high-end glass filter tips to premium indoor quality CBD flower and hash.
Shipped with FREE 1-2 Day Express Delivery
. 
What Is In The Goods VIP Bundle?
Each premium CBD product is hand-picked by industry experts that know what it means to grow and make high-quality cannabis products. In this bundle, you'll find:
The Goods Secure Stash Bag
3.5g Sweet Peach CBD Flower
3.5g Pineapple Cheesecake CBD Flower
3.5g Brickhouse CBD Flower
3.5g Mango Kush Jelly Hash
3.5g Amnesia Jelly Hash
3 x The Goods Glass Filter Tips
1 x Ultra Thin King Size Slims + Filters
1 x Pure Hemp King Size Slims + Filters
1 x All Natural King Size Slims + Filters