Magic Myke
Lion's Mane | Mushroom Powder 60g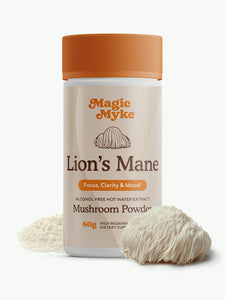 Our Lion's Mane powder are a natural source of antioxidants and anti-inflammatory compounds which can help improve overall immune system function, reduce inflammation, and protect against various diseases and illnesses. Premium quality Lion's Mane mushroom extract in a versatile and cost-effective powder form. Lion's Mane mushroom is known for it's ability to enhance brain function, improve memory, and boost mental clarity. Simply mix in to any food or beverage to get your daily dose however you like it. Additionally, they can help improve nervous system health, reduce anxiety and depression, and protect against age-related cognitive decline. Overall, taking lion's mane mushroom capsules is an excellent way to support overall health and wellness.

Why Choose Mushroom Powder?
Unlike capsules, powder allows you to determine your dose and absorption potential depending on how you consume the powder.
What Do Mushroom Powders Taste Like?
While some varieties have an earthy note, our powders easily meld with your dishes and drinks. Blending with milk or creamer can elevate the flavour for those sensitive to taste.
Easy Ways To Use Our Mushroom Powder:
Morning Boost:

 Elevate your coffee or tea with a dash.

Smoothie Upgrade:

 Add a gram for an enriched smoothie experience.

Cooking Companion:

 Infuse dishes from appetizers to desserts.
Ingredients:
100% Lion's Mane Fruiting Bodies (Hericium erinaceus)
Dosage:
Recommended at 1 tsp (2000mg) per serving. Each container provides 30 servings.
Important information:
100% Vegan

Store in a cool, dry place