True Terpenes
Forbidden Fruit | Terpenes UK | 2ml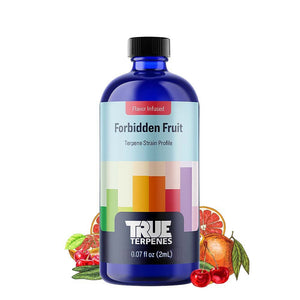 Forbidden Fruit delivers on its name. Created by crossing two flavor forward cultivars Cherry Pie and Tangie, this profile is a temptingly good.
True Terpenes (strain specific) can be made on as a drink. Suggested serving 1-2 teardrops per 300-500ml of purified water. Drink as normal. You can also make / add terpenes to your e-liquids, food recipes, bath water, cleaning agents, beauty products and more. 
When you consume your cannabinoid rich oils and your True Terpene within a 2 hour window of each other you really do experience the synergy of the compounds working together.  Terpenes are a great alternative to hemp flower / buds.
FRAGRANCE: A sweet blend of cherry blossom, grapefruit and cedar. The floral, musky scents hit your palette and creates an instant wave of flavor.
EFFECT: Will leave you ready to chill. While deeply soothing, Forbidden Fruit leads to uplifted rather than overwhelmed spirits.
Forbidden Fruit-Specific Certificates: Certificate of Analysis | Safety Data Sheet | Food Safety
Company-Specific Certificates: GMP | ISO 9001:2015 | FSSC 22000
Storage Requirements
Keep in original container, lid securely tightened and away from heat, open flames, sunlight, combustible materials and hot surfaces. No Smoking. Store below 15℃ (60℉). Improper storage can cause terpenes to degrade.
Dilution
Terpenes must be diluted prior to use. (1-5% by total volume). Terpenes are oil soluble and mix well with plant extracts, coconut oil, and more.
Handle With Care
Can cause skin irritation, do not use PRIOR to dilution.