Ember Box | Dab Pen + Any 3 Waxes (1g)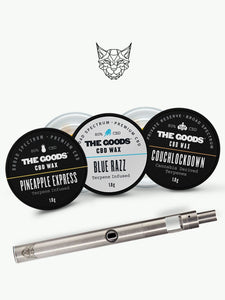 Ember Box
Finally we've brought out a killer deal for extract fans! Enjoy the strongest form of CBD, concentrates, with one of the best concentrate vaporisers on the market. This box is made for people looking to dab on the go, without the constraints of a blow torch, big batteries, or high price. Not only is it stealthy - it packs some strength too. There's over a months supply of CBD (3200MG+ CBD), and a sensational array of exotic terpenes. Pocket this kit every time you think you'll be away from your CBD for a while, you won't regret it!
The Ember
One of the smallest and sleekest pens on the market, the Ember delivers a quality vaporising experience without breaking the bank. Key Features:
1. Recessed Atomizer
2. Three Temperature Settings
3. High Quality Materials
"Our health centric design and medical grade stainless steel means pure flavour with minimal reclaim each and every use. It's this attention to detail that has landed us in the top vaporiser lists of 2019 and 2020. Join the Linx revolution.All our vaporisers are now heavy metals tested.  What are you waiting for?"
The Goods CBD Wax
Our Broad Spectrum CBD Wax has more than just CBD it features the true profile that our high-quality Hemp has to offer.  With all natural terpenes and combo of CBD and CBG, this is a highly enjoyable Broad Spectrum CBD Wax.  
Ingredients: THC removed broad spectrum hemp oil
Perfect for: sublingual ingestion, dabs, cooking, creating your own oils, hash substitute. 
Extracted and grown in Denver, Colorado.
"The Goods is our favourite cannabis lifestyle brand. Synonymous with high quality products with a satisfying design and feel, once you start using The Goods you'll never go back. Created by a group of cannabis enthusiasts who were looking for a unique, stylish and high quality CBD and smoking range that hadn't yet existed, now we can all enjoy what they've brought to market."
Replacement Parts