The Goods
Blue Dream Distillate Dab Pen 45% CBD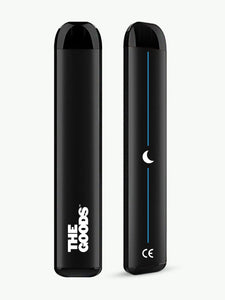 Blue Dream
Flavour: sweet, blueberry
Effect: Energy
0.5ml
Uncut CBD-Dominant Distillate Pen 
Experience the power of uncut CBD-dominant Distillate in our new sleek-sized pocket disposable vape pens loaded up with a potent, pure non-crystallising  CBD distillate (wax). Be sure that you're taking large CBD hits with every draw. You'll know what we're talking about once you've taken your first hit. Don't forget to buy certified quality, GMP certified. 
Ingredients:
45% CBD distillate
Terpenes
Instructions for use: Our pens are auto-draw activated. Simply take slow, smooth drags until desired effects are reached. That's it. Take small hits and leave time between hits. Do not exceed 70mg CBD a day. Must be 18+ to use this product. Keep out of reach from children. 
The Goods
The Goods is our favourite cannabis lifestyle brand. Synonymous with high quality products with a satisfying design and feel, once you start using The Goods you'll never go back. Created by a group of cannabis enthusiasts who were looking for a unique, stylish and high quality CBD and smoking range that hadn't yet existed, now we can all enjoy what they've brought to market.