The Goods
Super Lemon Haze CBD Vape Oil | 500mg | 10ml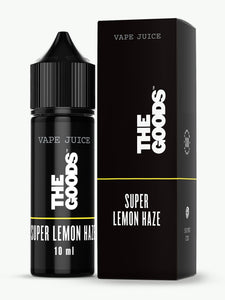 Super Lemon Haze
Flavour

Lemon, citrus, earthy

Effect

Uplifting, energetic, happy, creative

Strength
 

500mg
Broad Spectrum CBD Vape Juice
Our Broad Spectrum CBD Vape has more than just CBD it features the true profile that our high-quality Hemp has to offer.  With all natural terpenes and combo of CBD and CBG, this is a highly enjoyable Broad Spectrum CBD Vape.  
Ingredients: CBD Broad Spectrum Isolate (hemp), Propylene Glycol, Vegetable Glycerin, Terpenes, Minor Cannabinoids (Can include CBG and CBC). 
0% THC
3rd party lab tested
Non-GMO
Lactose-free
Gluten-free
Vegan
No additives 
The Goods
The Goods is our favourite cannabis lifestyle brand. Synonymous with high quality products with a satisfying design and feel, once you start using The Goods you'll never go back. Created by a group of cannabis enthusiasts who were looking for a unique, stylish and high quality CBD and smoking range that hadn't yet existed, now we can all enjoy what they've brought to market.