EQL
CBD Body Cream | 500mg CBD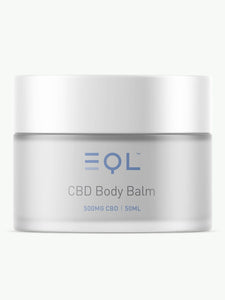 The Cream
A CBD moisturiser for radiance and youthfulness on demand. Packed with active ingredients like hydrolysed collagen and hyaluronic acid, it thoroughly hydrates your skin and combats visible signs of aging. Vitamins and antioxidants boost elasticity and strengthen the skin's connective fibres. The high levels of CBD exfoliates and cleanses the skin, reducing breakouts and redness.
EQL
EQL is a balanced line of boutique CBD products formulated for those after a healthier lifestyle. Our CBD rich products are clinically tested, made with only the highest quality hemp oil and only use 100% natural ingredients. With every variable in mind, our formulations experts have meticulously engineered recipes to help support you and your lifestyle
How to Use
Apply a small amount of cream onto the affected area of your skin. Rub gently until the cream is fully absorbed through the skin. Start off with a small amount and wait a few hours. If you feel you need more, apply an equal portion to your chosen area until you are satisfied. 
Ingredients: 
Aqua (Deionised Water), Caprylic/Capric/Triglycerides, CBD, Glyceryl Monostearate, Cetearyl Alcohol, Isopropyl Myristate, Vegetable Glycerine (Glycerin), Ceteareth-20, Cetyl Alcohol, 2 Phenoxyethanol 3 (2-Ethylhexyloxy) propane 1,2-Diol , Ginger Essential Oil (Zingiber Officionale), lemongrass Essential Oil (Cympobogen Citratus), Imidazolidinyl urea.