HempElf.com
Amber Spatter Glass Hand Pipe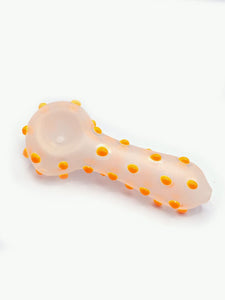 Introduce a vibrant splash of colour to your smoking rituals with the Amber Spatter Glass Hand Pipe!

This hand pipe is designed with meticulous craftsmanship, showcasing a mesmerising 3D effect of orange blobs spattered around its body. These radiant specks contrast beautifully against the transparent glass. Like a fascinating tactile journey, the bumpy pickle-like texture invites you to explore every inch of this piece.

The pipe features a generously sized oven for burning your herbal material, be it pure cannabis, hash, or an extract. Its usage is a breeze - place your herb into the bowl, cover the side hole with your thumb, light it up, and draw air through the mouthpiece.

Measuring a convenient size of 100mm X 35mm X 35mm, this lively glass hand pipe is the perfect companion for your cannabis endeavours.

Key Features:

- Intricately designed with a 3D effect of orange glass blobs
- Transparent glass body enriched with a unique tactile texture
- Features a large oven for burning various herbal materials
- Dimensions: 100mm x 35mm x 35mm
- User-friendly and easy to clean

Care Instructions

To maintain the performance and longevity of your Amber Spatter Glass Hand Pipe, we suggest a routine cleaning process. Here's a quick guide:

1. Empty the pipe of any leftover material.
2. Utilize a pipe cleaner to remove residual substances from the bowl and mouthpiece.
3. Apply a soft glass-cleaning solution from our cleaning collection to the pipe.
4. Rinse thoroughly with warm water and let it air dry before your next session.