HempElf.com
Purple Haze Botanical Glass Bong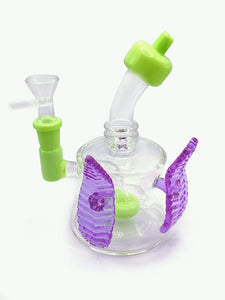 Bring a piece of the cannabis plant into your smoking ritual with the Purple Haze Botanical Glass Bong!

This bong doesn't shy away from showing its inspiration, featuring striking glass purple weed leaves that pop out from the base in a detailed 3D texture. The mouthpiece, bowl resting area, and middle portion - where air meets water - are vivid green, contrasting beautifully with the clear transparent glass body.

Crafted with the user in mind, this bong's mouthpiece faces upwards, gently slanting towards you for an easy, comfortable fit when rested on a table. Its high-quality build and solid feel further enhance your smoking experience.

The Purple Haze Botanical Glass Bong has a bowl ready to enjoy right out of the box. Pack your chosen herb or extract into the bowl, ignite, cover the side hole with your thumb, and draw in through the mouthpiece.

Measuring 170mm X 135mm X 100mm, this bong is a statement piece that promises a rich and fulfilling experience.

Key Features:

- Unique cannabis-inspired design with 3D purple glass weed leaves
- Mouthpiece slants towards the user for easy, comfortable hits
- Vibrant green highlights at the mouthpiece, bowl area, and middle section
- High-quality, durable construction
- Dimensions: 170mm x 135mm x 100mm
- Comes ready to use with included bowl

Care Instructions:

Maintaining your Purple Haze Botanical Glass Bong's beauty and function requires a routine cleaning regimen. Here's how:

1. Empty the bong of any remaining material.
2. A pipe cleaner removes residual substances from the bowl and mouthpiece.
3. Apply a gentle glass-cleaning solution from our cleaning collection to the bong.
4. Rinse thoroughly with warm water and let it air dry before your next session.