HempElf.com
Caramel Cyclone Glass Bong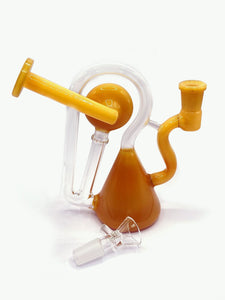 Step up your smoking game with the sophisticated Caramel Cyclone Glass Bong!

The Caramel Cyclone is no ordinary bong. With its outward-facing mouthpiece designed for comfortable table-top hits and a recycler-style basin that makes water swirl majestically, this bong is a pleasure to use and watch. The two-tone design featuring bold caramel and transparent glass adds an elegant touch, making it a stylish addition to any session.

Built to last, the Caramel Cyclone has a solid, high-quality feel you'd expect from a premium bong. It comes with a bowl, ready to use right out of the box.

To enjoy, pack your favourite herb or extract into the bowl, apply flame, cover the side hole with your thumb, and draw in through the mouthpiece.

With its sizeable dimensions of 170mm X 160mm X 70mm, this bong offers a grand smoking experience.

Key Features:

- Unique outward-facing mouthpiece design for easy table-top hits
- Recycler-style basin that causes water to swirl in an impressive display
- Bold two-tone design in caramel and transparent glass
- High-quality, durable construction
- Dimensions: 170mm x 160mm x 70mm
- Comes ready to use with included bowl

Care Instructions:

A regular cleaning regimen is recommended to maintain the Caramel Cyclone Glass Bong's superior performance and impressive aesthetics. Follow these steps:

1. Empty the bong of any leftover material.
2. A pipe cleaner removes residual substances from the bowl and mouthpiece.
3. Apply a gentle glass-cleaning solution from our cleaning collection to the bong.
4. Rinse thoroughly with warm water and let it air dry before your next session.