EQL
Lavender Rose - 350g CBD-Infused Himalayan Bath Salts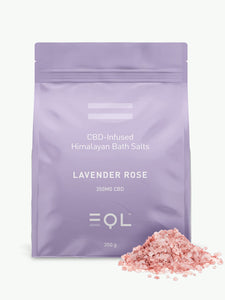 Lavender Rose
350mg CBD
350g net weight 
Ingredients:
Magnesium Sulphate, Lavender Oil, Hemp Seed Oil, CBD
Instructions:
Fill bath tub to desired level, then add at least 100g of CBD salts into bath tub. Allow the salts to soak in and immerse yourself in the heavenly water.
Only to be used externally. Must not be ingested. Store in cool, dry place. In case of contact with eye or in case you experience skin irritation, rinse with cold water. Not to be used on or around open wounds or punctured skin. Keep out of reach of children.