The Goods
COUCHLOCKDOWN CBD WAX CRUMBLE UK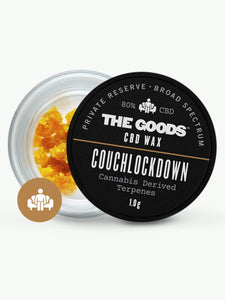 Cannabis Profile
Fragrance

: dank, piney, diesel.
Effect

: calm, dreamy, uplifted.
Synergistic CBD Wax
Our Broad Spectrum CBD Wax has more than just CBD it features REAL cannabis derived terpenes with a truly unique flavour profile.  With all REAL cannabis derived terpenes and combo of CBD and CBG, this is a highly enjoyable Broad Spectrum CBD Wax.  
Ingredients: THC removed broad spectrum hemp oil
Perfect for: sublingual ingestion, dabs, cooking, creating your own oils, hash substitute. 
Extracted and grown in Denver, Colorado.
Real cannabis derived terpenes.
How To Use & Reviews
The Goods
The Goods is our favourite cannabis lifestyle brand. Synonymous with high quality products with a satisfying design and feel, once you start using The Goods you'll never go back. Created by a group of cannabis enthusiasts who were looking for a unique, stylish and high quality CBD and smoking range that hadn't yet existed, now we can all enjoy what they've brought to market.
Wax/Shatter Pen & Cleaning Supplies