HempElf
The 510 Battery 1100mAh Battery Charger Kit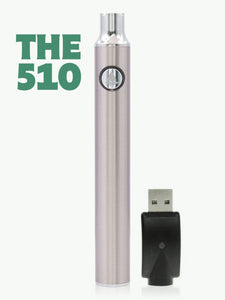 A high-quality 510 battery helps lift your vaping experience by guaranteeing that you're hitting the correct temperatures and packing enough juice for long sessions. We decided to create our battery after noticing a lack of 510 batteries made by cannabis users for cannabis users. The most common 510 battery we see on the market is made for nicotine-based devices, whereas ours are designed specifically for us with cannabis and CBD distillate. The two are very different liquids with different viscosities and ideal temperatures. We've also calibrated the battery to work perfectly with dabbing devices like the Dabamizer.
Charging Power Supply for 510 Battery
Twist the power supply clockwise onto USB adapter (included) until snug, then connect the USB adapter to a power adapter or active USB port (not included). For the best performance, charge the power supply often after use. The LED light on the charger will blink green and orange to indicate charging is in progress. Once charging is complete the LED colour will change to green. Please note - if the device is connected to an active USB port or wall adapter and the LED is not lit, it has a full charge.
Depleting Cartridge for 510 Battery
Cartridge is empty when vapor is no longer produced after activation. Due to headspace, the cartridge may still produce vapor after the reservoir appears empty due to out of view oil absorbed in the atomizer. 
Installing Cartridge for 510 Battery
Twist the 510 cartridge clockwise onto power supply until snug. Do not over tighten.