HempElf.com
Ruby Spatter Glass Hand Pipe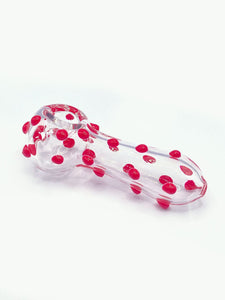 Ruby Spatter Glass Hand Pipe

Product Description:

Elevate your smoking experience with the stunning Ruby Spatter Glass Hand Pipe!

Crafted with artistic precision, this hand pipe presents an appealing 3D effect of red blobs spattered around its body, creating an intriguing contrast against the transparent glass. Its distinctive design is reminiscent of a bumpy pickle texture, inviting tactile exploration and visual enjoyment.

The pipe offers a spacious bowl or 'oven' for burning your favourite herbal material, whether it's pure cannabis, hash, or an extract. The application is straightforward - pack your substance into the bowl, cover the side hole with your thumb, light it up, and draw air through the mouthpiece.

Compact and handy with dimensions of 100mm X 35mm X 35mm, this radiant glass hand pipe will become a go-to accessory for your smoking sessions.

Key Features

- Artfully designed with a 3D effect of red glass blobs
- Transparent glass body with a visually pleasing texture
- Incorporates a well-sized oven for burning various herbal materials
- Dimensions: 100mm x 35mm x 35mm
- Simple to use and easy to clean

Care Instructions

We recommend a regular cleaning routine to ensure the Ruby Spatter Glass Hand Pipe continues providing you with a better smoking experience. Here's a quick guide:
1. Empty the pipe of any leftover material.
2. A pipe cleaner removes residual substances from the bowl and mouthpiece.
3. Apply a gentle glass-cleaning solution from our
cleaning collection
4. Rinse thoroughly with warm water and let it air dry before your subsequent use.