Mr Moxey's
Mr. Moxey's Calm CBD Mints | 60 x 5mg mints - 300mg CBD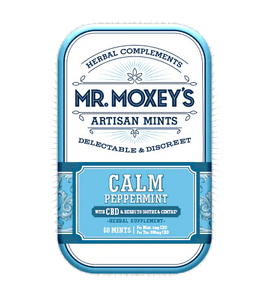 Wind Down Wonderfully Well with Mr. Money's Calm CBD Mints!
- 5mg CBD per mint, 60 mints, 300mg CBD total

- 

Infused with broad spectrum organic hemp extract

- 

Herbal Allies: Hawthorn, Ashwagandha, Lemon Verbena
- Gluten-free & vegan

- 

This product contains no THC
In the midst of a tempest one must find their center and indulge themselves within the serene quiet of inner peace. Mr. Moxey's Artisan Calm Mints bring a tranquil blend of hawthorn, ashwagandha, and lemon verbena to help soothe the waters, and uplift your spirits.
Herbal Allies
Proprietary CALM blend of natural herbs that work synergistically to balance mind and body.
- Hawthorn
A rich source of antioxidants, this berry has long been used in herbal medicine as an aid to digestion and kidney function.
- Ashwagandha
An adaptogenic herb that has been used for thousands of years to relieve stress, increase energy levels and improve concentration.
- Lemon Verbena
Used for centuries as a powerful medicinal plant to ease the mind, soothe nerves, and calm the body.