EQL
200MG CBD Bath Bomb | Peruvian Cherry
New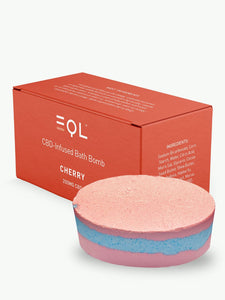 Product Description

Introducing EQL's Luxurious CBD-Infused Bath Bombs: The Ultimate Experience in Relaxation and Rejuvenation
EQL, a brand synonymous with precision, trust, and purity, proudly presents their latest innovation in CBD self-care: Luxurious CBD-Infused Bath Bombs. Each bath bomb boasts an impressive 200mg of high-quality CBD, designed to elevate your bath time ritual and help you unwind after even the most demanding days.
These CBD Bath Bombs come in three delightful scents: Cherry, Watermelon, and Ylang Ylang, allowing you to choose the perfect aroma to suit your mood. EQL takes pride in crafting their products with only the finest ingredients, ensuring an unparalleled bath time experience that soothes both body and mind.
EQL's CBD Bath Bombs contain a carefully selected blend of nourishing ingredients that not only enhance the CBD experience but also promote overall skin health. Cocoa seed butter and shea butter work together to moisturize and soften the skin, while trehalose, Hakka Yu, and pineapple extract provide essential nutrients and antioxidants. The addition of Morus Alba root extract further contributes to the revitalizing properties of these luxurious bath bombs.
At just £6.50 per bath bomb, EQL makes it easy to transform your bath time into a rejuvenating, stress-relieving experience. Trust in EQL's unwavering commitment to purity, research, and no-frills effectiveness, and treat yourself to the ultimate mind and body retreat with their Luxurious CBD-Infused Bath Bombs.
Instructions for Use
To enjoy the full benefits of EQL's CBD Bath Bombs, simply fill your bathtub to the desired level, remove the bath bomb from its packaging, and drop it into the water. As the bath bomb fizzes and releases its fragrant aroma, immerse yourself in the soothing water, allowing the 200mg of premium CBD and nourishing ingredients to work their magic.
Ingredients:
Sodium Bicarbonate, Corn Starch, Water, Citric Acid, Maris Sal, Glycerin, Cocoa Seed Butter, Shea Butter, Trehalose, Hakka Yu, Pineapple Extract, Morus Alba Root Extract, CBD
The Perfect CBD Bath Bomb
Restore your body and soul with our tough day-killing, mind-unwinding, CBD Bath Bomb. Designed to help you wind down after even the most taxing of days. With our New CBD Bath Bombs you are not only getting a quality product, but you are also receiving a product that is designed to help stabilize your well-being. The CBD bath bombs combine a unique CO2 extraction formulation with quality ingredients and are geared to help assist in the relief of frustration from long, hard days. Never tried a CBD bath bomb? Oof, you're in for a mind/body treat. Seriously.
Warnings/Regulatory info
Only to be used externally. Must not be ingested. Store in cool, dry place. In case of contact with eye or in case you experience skin irritation, rinse with cold water. Not to be used on or around open wounds or punctured skin. Keep out of reach of children.