EQL
250mg Broad Spectrum CBD Oil UK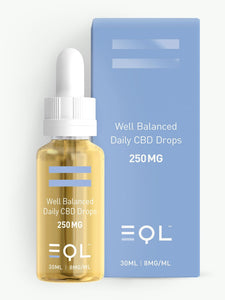 EQL Well Balanced Daily CBD Drops are produced to GMP Standards in our certified laboratory from the highest quality hemp oil with 0% THC, providing the best support to you and your body.
30ml volume
250mg total CBD
8mg/ml
INGREDIENTS: MCT Oil, CBD Broad Spectrum Isolate (Hemp), Minor Cannabinoids (Can include CBG and CBC).
EQL
EQL is a balanced line of boutique CBD products formulated for those after a healthier lifestyle. Our CBD rich products are clinically tested, made with only the highest quality hemp oil and only use 100% natural ingredients. With every variable in mind, our formulations experts have meticulously engineered recipes to help support you and your lifestyle
How To Use
• CBD oil tinctures are very convenient and easy to use! Simply apply your desired dosage and hold under the tongue for 10-20 seconds before swallowing.
• Get creative and add CBD oil to your favourite drinks!
• Adjust dose as needed, individual results may vary.
• The recommended dosage of CBD is 30-60mg daily. For best results, it is recommended that you start with 5-10 mg of CBD, wait 3-4 hours, and increase as necessary to achieve desired effects.
• For individual recommendations on CBD dosages, check with your physician or healthcare provider.
Some oils may be delivered in amber bottles.