DynaVap
BB9: Pink Midsection | DynaVap UK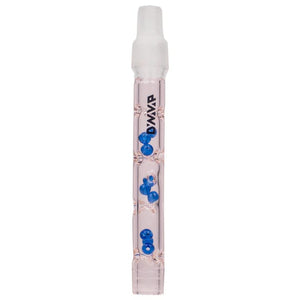 Product Description:
This pink glass midsection comes with 9 blue glass beads inside for diffusion and features divots along the sides. It contains an air port and is tapered to fit 14mm or 10mm female fittings. The BB9 also connects perfectly with either the Titanium Tip or the Stainless Steel Tip to make a complete device.
*No condenser necessary
**Will not fit in any size DynaStash
Warranty: The BB9 warranty extends only to damage during shipping. If your BB9 arrives broken or damaged, you must reach out to us within 48 hours of receiving the items to receive a replacement. After 48 hours of receipt, no replacements will be offered.
Cleaning instructions:
To remove consumed material from the chamber, either blow on the mouthpiece or use the built in extractor or "digger outer" to empty the chamber. The body can be cleaned with hot water. You can also use the included carrying case with almost any cleaning solution filled half full then shake or soak to wash your VapCap with the cap removed.