CBDrive
Reusable Bottle | Sports Edition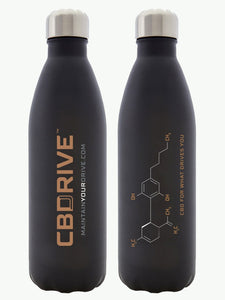 The Bottle
Treat yourself to this high quality reusable water bottle, coated with a high quality matt finish. On one side is the powerful image of the CBD compound, on the other is the equally strong CBDrive logo!
CBDrive
For when you push yourself to the limit. CBDrive supplements and products can help you recover faster, maintain peak performance and get you back in the game. Using our unique scientific formulations and quality controlled products, CBDrive will support you to maintain your drive and help maximise your full potential.
*These statements are continuously studied and are unverified. CBD is not intended to diagnose, treat, cure or prevent any disease.
Keep out of reach from children. Must be 18+ to use these products. These products are not intended to treat, cure or prevent any illness or disease. Please always refer to your physician or medical healthcare professional for medical advice.