The Goods
BANANA KUSH CBD ISOLATE SHATTER UK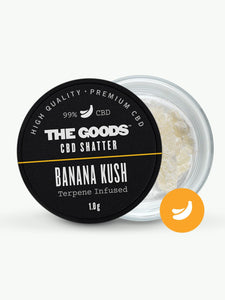 Cannabis Profile
Fragrance: Heavy with citrus and floral notes.
Effect: Soothed, calm, relaxed
Synergistic CBD Shatter

Our hand crafted premium shatter is made to deliver an unbeatable experience. Completely free from THC, this is one of the purest sources of CBD you will find. Infused with GMP grade cannabis terpenes to give 6 strain specific cannabis profiles, we give you choice to determine what type of effect you are looking to experience. 
Ingredients: THC removed broad spectrum hemp oil
Perfect for: sublingual ingestion, dabs, cooking, creating your own oils, hash substitute. 
Extracted and grown in Denver, Colorado.
How To Use & Reviews
The Goods
The Goods is our favourite cannabis lifestyle brand. Synonymous with high quality products with a satisfying design and feel, once you start using The Goods you'll never go back. Created by a group of cannabis enthusiasts who were looking for a unique, stylish and high quality CBD and smoking range that hadn't yet existed, now we can all enjoy what they've brought to market.