The Goods
King Size Slims + Filters | Pure Hemp | 32x Rollies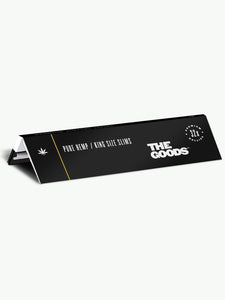 PURE HEMP
Roll in style with this sleek booklet of hemp rolling papers and filter tips. 
The Goods
The Goods is our favourite cannabis lifestyle brand. Synonymous with high quality products with a satisfying design and feel, once you start using The Goods you'll never go back. Created by a group of cannabis enthusiasts who were looking for a unique, stylish and high quality CBD and smoking range that hadn't yet existed, now we can all enjoy what they've brought to market.
We find the high quality finish on these papers makes them stand out, as well as the thick well cut filter tips that feel amazing upon taking draws.